Paragliding Courses - $3,000.00
Coming Next Season!! Have you ever dreamed you could fly? Makingtrax can facilitate your introduction and put you on course to become a PG2 licenced paragliding pilot. We provide all the adaptive equipment and make sure you are in the best hands possible on your journey. This operates in a number of different locations in the South Island of New Zealand. Certain conditions apply, please read more to see if this suits your ability. Price stated is an approximate reference.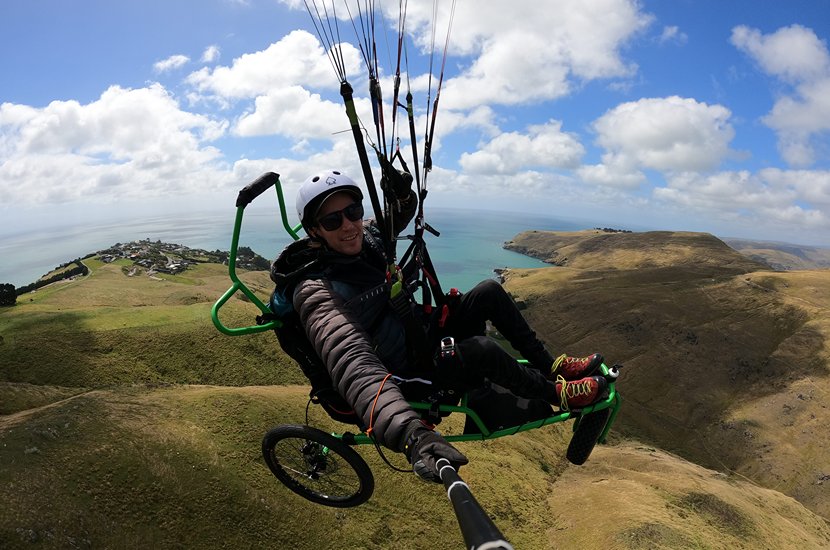 Paragliding Courses
Requirements & Adaptive Information
To fly solo with Makingtrax adaptive equipment you will need to have full function in arms and if limited hand function, you will need to demonstrate to your instructor you can grip the toggles. These requirements are for safety purposes as part of your licence requirements include gripping and pulling lines to decrease wing size (big ears), and demonstrate reserve deployment. This can be done over a whatsapp video call prior to your visit if based overseas or outside the local flying area and will again be required to demonstrate on Training Tandem Flight
Makingtrax Foundation supplies the paragliding buggy and advises the flight instructors. Additional to the course cost is a donation to the Makingtrax Foundation for the use of adaptive equipment is required.
First contact will be with your adaptive consultant and adaptive pilot Jezza Williams. Prices mentioned below are subject to change. Weight limits apply.

Training Tandem Flight
Discovery tandem flight: $200
Come along and learn to fly with an instructor with training tandem flights. Learn the basics about the sport of paragliding all in one amazing flight!
PG Intro Course:
Introductory day: $300
Some schools offers an introduction course which gives you the skills to fly by yourself under radio instruction from an instructor at takeoff and another at landing. Before flying students attend ground school where they practice take-off, steering and landing with a paraglider. Once proficient with ground training students will have two flights from our top launch or a Discovery Tandem Flight if the wind is too strong. All equipment is supplied.
PG1 Course
PG1: $480 after introductory day
The student licence PG1 course is the second step towards your full pilot's licence and follows the PG Intro course (required). It has a minimum requirement of 6 high flights under instruction from an instructor at the takeoff and another at landing. At the end of the course students are expected to be proficient at paraglider wing inflation (check and correct), take off (or abort), establish easy transition from takeoff to flying, smooth flight turns and safe landings on their feet. There is additional theory which covers basic aerodynamics, suitable flying conditions and essential information about the equipment used. All equipment is supplied. Minimum course number: 2
PG2 Course
PG2: $2020 after PG1
The PG2 course (solo licence) follows the PG1 course (required) and is designed for students who wish to complete their private pilot licence. Obtaining this licence allows pilots to fly for themselves. In order to be issued a PG2 licence students need to demonstrate a wide range of practical paragliding skills and achieve a level of theoretical knowledge assessed through exams towards the end of the course. Below is a brief summary of skills covered in the course.
Launching/Takeoff Skills : wing inflation and take-off/landing techniques
Flying Skills: descent and steering techniques, completion of a minimum of 40 flights in total* (Intro and PG1 flights included) from at least 4 different flying sites. *with normal training progression
Theoretical Skills: aerodynamics, meteorology, equipment and flying skills